Salem High School
Class Of 1980
In Memory
Tracy Cole (Cole-Munoz)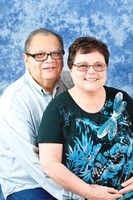 Deceased Classmate: Tracy Cole
Date Of Birth: 4-30-1963
Date Deceased: 8-18-2016
Age at Death: 53
Cause of Death:
Classmate City: Georgetown
Classmate State: TX
Classmate Country: USA
Was a Veteran: Yes Army
Survived By: She is survived by her husband Chris Munoz, son Bassam Andrew "Keith" Kabar, daughter Amera Princess Kabar Blankenship and husband Danny, daughter Anisa Alia Kabar, son Winston Alexander Cole, mother Sandra Altice Cole, brother Thomas Anthony Cole, sister Lisa Cole Cassell and husband Tom, sister Wilma Cole Crespo, brother Wilbur Carlton Cole Jr and wife Brandy, brother Robert Wayne Cole and wife Tina, grandchildren Kayden Kabar, Galax Kabar, Brantlee Cole, and Jaycee Cole, her dear friend Al Crespo and Gilbert Munoz, loving brother in law, along with many nieces and nephews. Preceded in death by her grandfather Rufus Howard Altice, grandmother Daily LaPrad Altice, her father Wilbur Carlton Cole Sr., sister Jeannie Cole Hufford, brothers Clyde Carlton Cole and Alan Clayton Cole.

Tracy was a loving daughter, sister, mother, and wife. She was always the first one to help anybody in need. She enjoyed swimming, photography, and working at her church, Abundant Faith in Round Rock Texas She believed in Jesus Christ and is in Heaven. She will be truly missed and was truly loved by everyone.